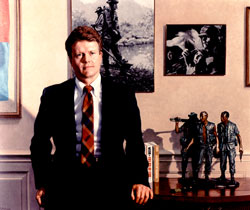 Well known for his portraits and landscapes painted from nature in the traditional manner, Mr. Whitney's paintings hang in over 750 public and private collections throughout the United States and abroad. These include over 400 portraits and many distinguished individuals including Mitt Romney, Nobel Laureates Paul Samuelson and Phillip Sharp, and actor Ethan Hawke.
In May of 2015, Richard Whitney was awarded an Honorary Doctor of Fine Arts before a crowd of 25000 at the University of New Hampshire making him one of very few artists to ever receive this honor.
Mr. Whitney's book, Painting the Visual Impression, has been read by artists world wide. It has received glowing reviews from notable artists including Daniel Greene who said "it is on par with the classic "Art Spirit" by Robert Henri and is destined to be a classic book on portraiture and painting."
Painting the Visual Impression 2nd edition (2015) is published by Great Life Press and is available in both full-color paperback and Kindle versions on Amazon.com. The book may also be purchased directly from the artist.
Richard Whitney's paintings are included in the Anchorage Museum of Art and History, the Anderson House Museum, the Newark Museum, the Springfield Museum of Art, the Pentagon, the U.S. Department of Labor, Harvard University and the Catholic University of Portugal among others. He is the youngest artist in history to have a painting in the permanent collection of the State Capitol of Massachusetts.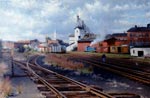 A precise poet, Whitney's dedication to technique is uncompromising, but a spirit of generosity emanates from all his work that becomes an act of life affirmation; his canvases are suffused with emotional overtones that envelope the subject matter in an aura of such perfect harmony that it resounds a universal theme. Born in 1946, Richard graduated Phi Beta Kappa from the University of New Hampshire. He studied with Sidney F. Willis and with the noted Boston painter R. H. Ives Gammell for five years. He has won over forty regional and national awards; his work has been seen on national cable television and has been the subject of numerous newspaper and magazine articles.
Mr. Whitney is a certified board member of the American Society of Portrait Artists and the

Copley Society. He is the author of Painting The Visual Impression and co-author of Realism in Revolution: The Art of the Boston School. His paintings have been reproduced in other books: Edmund C. Tarbell and the Boston School of Painting and New Hampshire, an Illustrated History of the Granite State.
Whitney has traveled and painted in Europe, Japan, Alaska, and the Caribbean and has lectured extensively throughout the Northeast. He is a painting advisor for "American Renaissance for the Twenty-first Century," a non-profit organization. He is listed in a dozen reference books including American Artists of Renown, The New York Art Review, Who's Who in American Art, Who's Who in the East and International Men of Achievement.
Personal Statement
"In rearranging parts of a subject, eliminating unnecessary details, and using other technical means of expression, I make each painting my own interpretation of reality. My purpose in doing so is really quite simple: I agree with Renoir, there is enough ugliness in the world and that it is not necessary to make more of it. I try to use my academic training in drawing and composition, together with my impressionist eye for color, value and mass, to create paintings that will give people a sense of joy and hope and a view of the world often more pleasant than reality.

Selected Collections

The Newark Museum of Art
Springville Museum of Art
The Pentagon
New Hampshire State Capitol
Harvard University
Catholic University of Portugal
University of Chicago
Boston Univ. School of Medicine
Brooklyn Academy of Music
CHUBB Life America
Massachusetts State Capitol
Dartmouth College
Frederick C. Ross
Massachusetts Gen. Hospital
Prime Computer Corp.
Yasuyuki Nambu, Tokoyo